Ion Release and Corrosion test
Corrosion and Ion Release of medical implants like Stent, Occluder, Hip implants and dental implants is performed by Questmed GmbH.
We are testing implants with the analysis of Ion Release according ASTM&nbspF3306, ASTM&nbspF1875, ASTM&nbspF1877 and ISO&nbsp10271.
Nickel leaching for stents is determined according ASTM&nbspF3306.

Ion Release test ASTM&nbspF3306
Test Method for Ion Release Evaluation of Medical Implants (cardiovascular devices, endovascular devices, and orthopedic implants), by exposing the device to solutions simulating the in-vivo environment and temperature for a predetermined time frame with regular sampling at adequate intervals is described in ASTM&nbspF3306-19.

The test should run at 37°C in bufferd saline solution with pH 7.4 (blood).
Other test solutions like artificial salvia, bile, or urea are also available.
For devices containing nickel-rich alloys FDA recommend measuring concentrations of nickel leached from the device into a fluid at physiologic temperature and pH.
Measurements by ICP-MS are taken at 1, 2, 4, 7, 14, 21, 28, 39, 50 up to 60 days.
Test results are reported as total cumulative release per device in micrograms and as a per day release (μg/day).
Test reports will be accepted by FDA.

Ion release of medical implants is also assessed for orthopedic implants like hip implants.
Corrosion test dental implants ISO&nbsp10271
For example, the static immersion corrosion testing of dental implants according ISO&nbsp10271, two test samples were placed at 0.1 mol/l lactic acid and 0.1 mol/l sodium chloride with pH value 2.3 and 37 degree for 7 days and then the medium is analysed by ICP-MS for:
Aluminium
Beryllium
Cadmium
Chromium
Cobalt
Iron
Lead
Manganese
Molybdenum
Nickel
Titanium
Tungsten
Vanadium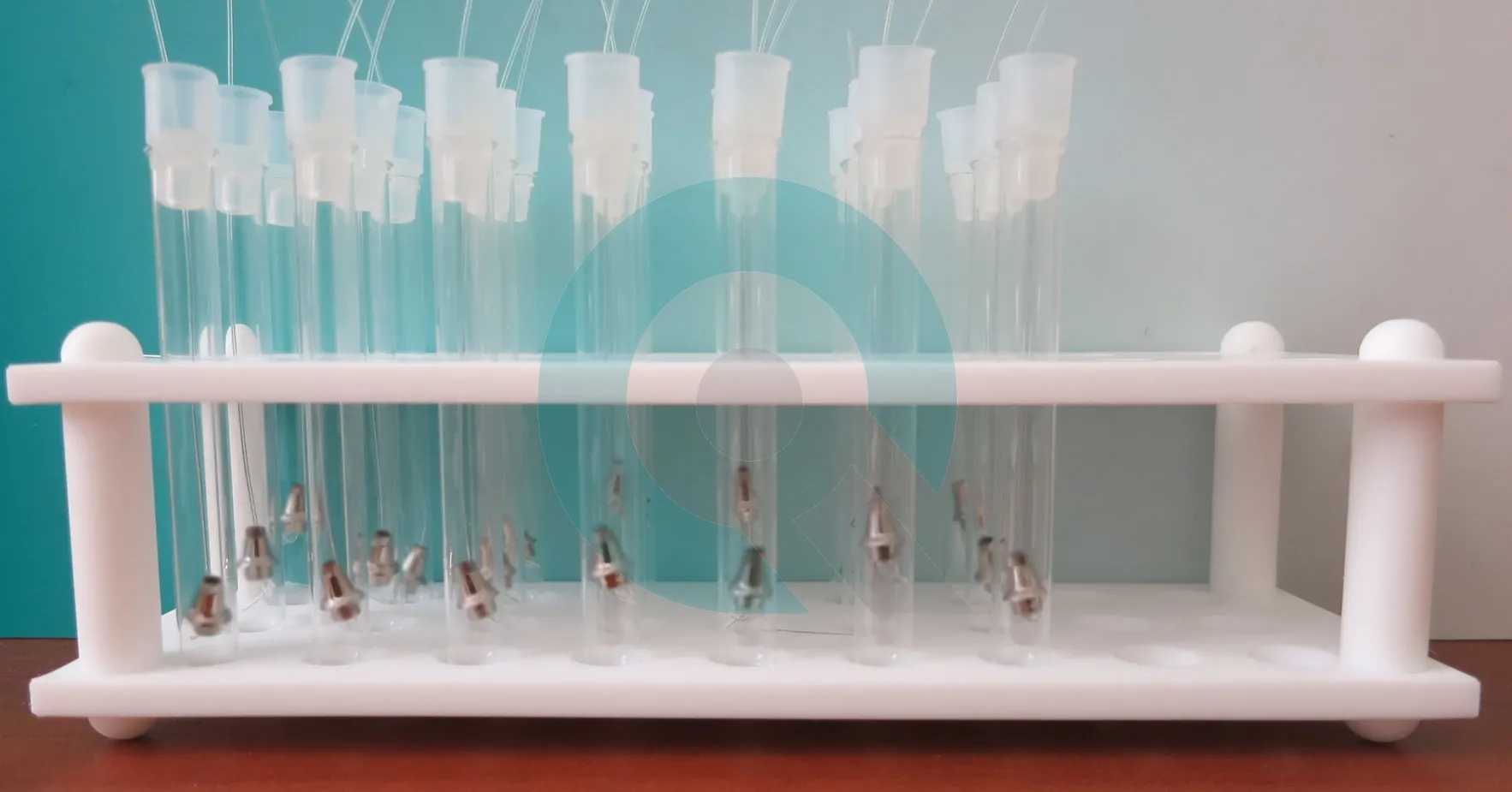 Currently we have 10 test setups for metal ion emission and corrosion testing.